INDUS RFID Expertise - A focus on Aviation/Aerospace Application
Indus has several years of experience in providing RF Data Collection Solutions and has provided RF Data Collection Solutions to Retailers, Food Distributors, Logistics Providers in the areas of Warehouse Management, Transportation, Store Operations
Need of RFID in Aviation
In Today's world all Airframe manufacturers and MROs are leveraging RFID technologies to keep tabs on thousands of parts and strengthen transparency throughout the supply chain as well as maintenance records.
An airplane is made up of hundreds of thousands of parts. Keeping tabs on each element of an aircraft throughout its lifecycle is a high-stakes responsibility.
Keeping the history information manually is a cumbersome task which is why today's all airframe manufacturers have moved their focus on RFID Technology to identify, track and manage critical components, saving time and reducing errors in the process by the technicians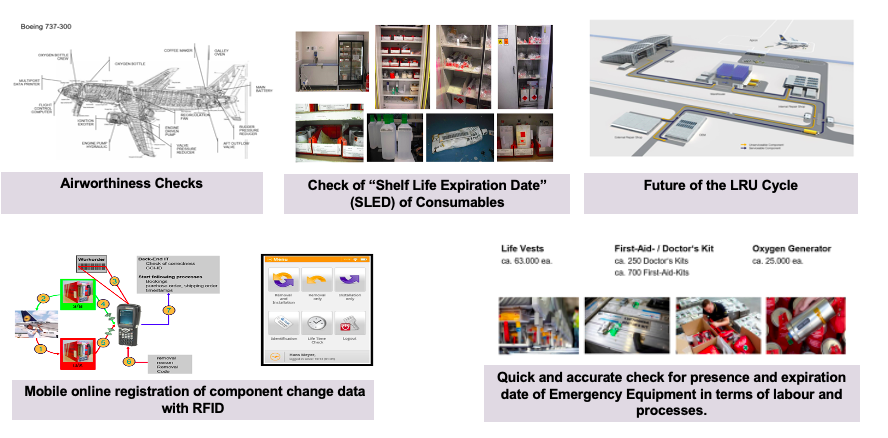 What can be tracked
Birth record, including serial number and manufacturing information,Pedigree and identity
Current record, including reconfiguration details,identity, or characteristics (such as hazardous materials or weight)
Maintenance history, including changes in custody/location and utilization/consumption,utilization and consumption; trends
Additional notes added by the technician,store photos or videos.
Benefits of using RFID
Operators can reduce costs and inspection time, eliminate labor-intensive maintenance, and provide easy access to maintenance histories.

RFID Integrated Solutions eliminates the need and long lead time for operators to retrofit their fleets with automated identification technology